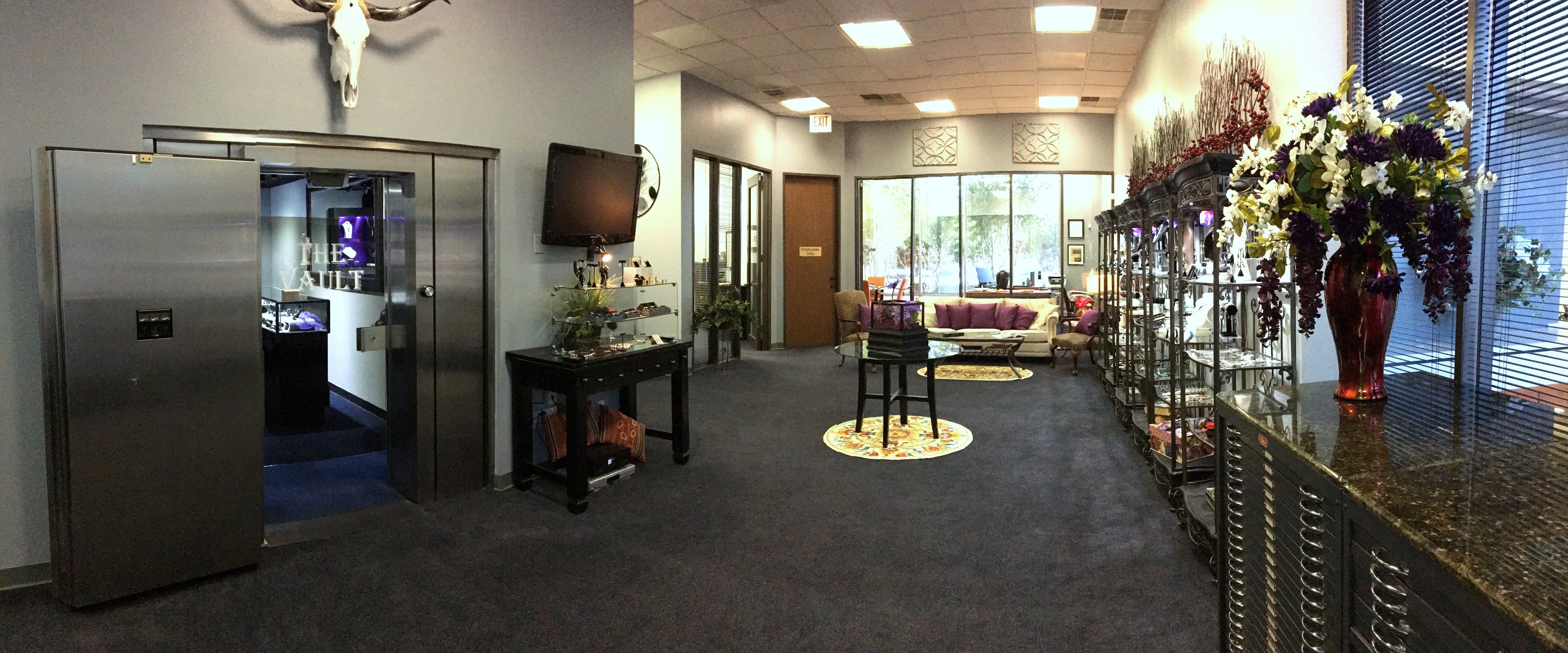 Fine Jewelry Store Conroe Texas
I started my business in Dallas in 1991 selling sterling silver jewelry out of my home. From there, the business grew into a showroom offering a wide assortment of fine jewelry in Orange County, California, where we operated until 2010. Now, over 25 years from starting in Dallas, we are again in Texas operating an appointment only showroom located in the vault of a prior bank, offering diamonds and fine jewelry.
I have been asked many times to define my design style. The truth is I do not have one. I operate on a one-on-one basis with each client and design whatever they envision. At the end of the day, my goal is for the client to walk away feeling overwhelmingly proud of the finished product, lacking absolutely nothing in either quality or value. I want my customers to look at their purchase and think, "I would not change anything about this."
Just as I have no set design style, I also do not limit myself to the high-end market. The size of the stone or the price of the piece should not matter when the sentiment is all the same: You Deserve Something Special. I love being able to help a young man or woman learn about the diamond he or she is purchasing, whether it is one half carat or twenty carats. I spend as much time with each client as is necessary. I show them the difference in each stone, explaining why one at the same carat weight can cost more than another weighing the same. My clients are involved with the design process; we make it all happen together from beginning to end. It is much more fun, much more romantic, much more personalized, and has more meaning than walking into a mall store and picking a piece of jewelry that hundreds of other women are wearing.
There is practically no jewelry piece I cannot get my hands on. In over 25 years of business, I have developed relationships and trust in the jewelry industry. If I do not have it in my showroom, believe me, I can get it.
Lastly, but most importantly, in the purchase of any piece of custom jewelry there needs to be a feeling of trust between the buyer and the seller. People are making lifetime purchases, and they need to know that what they are getting is of a superior quality. I provide a level of service and experience, a level of prestige and dedication to uniqueness and exclusivity that makes my clients come back to me year after year for all of their jewelry needs. I am proud of and love what I do.
— Barbara Parker